About the Founder
Rev. Albert K. Takyi is the founder and Executive Director of Missions Purse. He holds a Diploma In Pastoral Ministries and Religious Education from Ghana Christian College and Seminary now Ghana Christian University College, Dodowa –Accra. Ghana. W/Africa.He worked and served with the Ghana Christian College for almost a decade as Secretary to the College.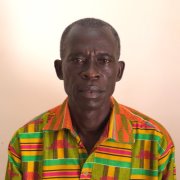 Rev. Albert K, Takyi had also served as the Executive Secretary of Ghana Evangelical Missions Association (GEMA), a national network of missionary organizations in Ghana from 2001-2010. GEMA is a member of the Third World Missions Association (TWMA) and an associate member of Missions Commission of the World Evangelical Alliance (WEA). By the role of his position Rev. Takyi has traveled the length and breadth of Ghana visiting mission fields. He has been involved in several missions' consultations, training seminars, theological seminars as well as business seminars in both home and abroad. He has developed a wide range experience in Church planting and Missions.
He is a founding member of Dominion Calvary Pentecostal Church in Takoradi, in the Western Region of Ghana which was founded in 1979. He was ordained by the Church as a minister of the Gospel and served in several capacities in the church including Outreach Director and General Secretary. He pioneered several branches of the church in the Western region and elsewhere and has mentored several Pastors ministering in various denominations including Assemblies of God, Ghana and several other independent churches.
As a Pastor /teacher and missionary, his passion is to promote indigenous Christian missionary work through training in global evangelization (Missions) and missions awareness; advocate and promote the welfare of front-line missionaries in Ghana and Africa and the cause of missions as a whole to help fulfill the unfinished task of the Great Commission of our Lord and Savior Jesus Christ.
I invite you today to come let us work together to inspire indigenous missions and help put a smile in the missions community.
Thank you